Keep that fresh off the beach tan all year long!
Our spray tan solutions are custom formulated from organic based natural ingredients, vegan and cruelty-free.
Beach Candy Sunless gives you beautiful caramelized candy skin.
We service EVERYONE ! ! Ladies & Gents with all skin tones.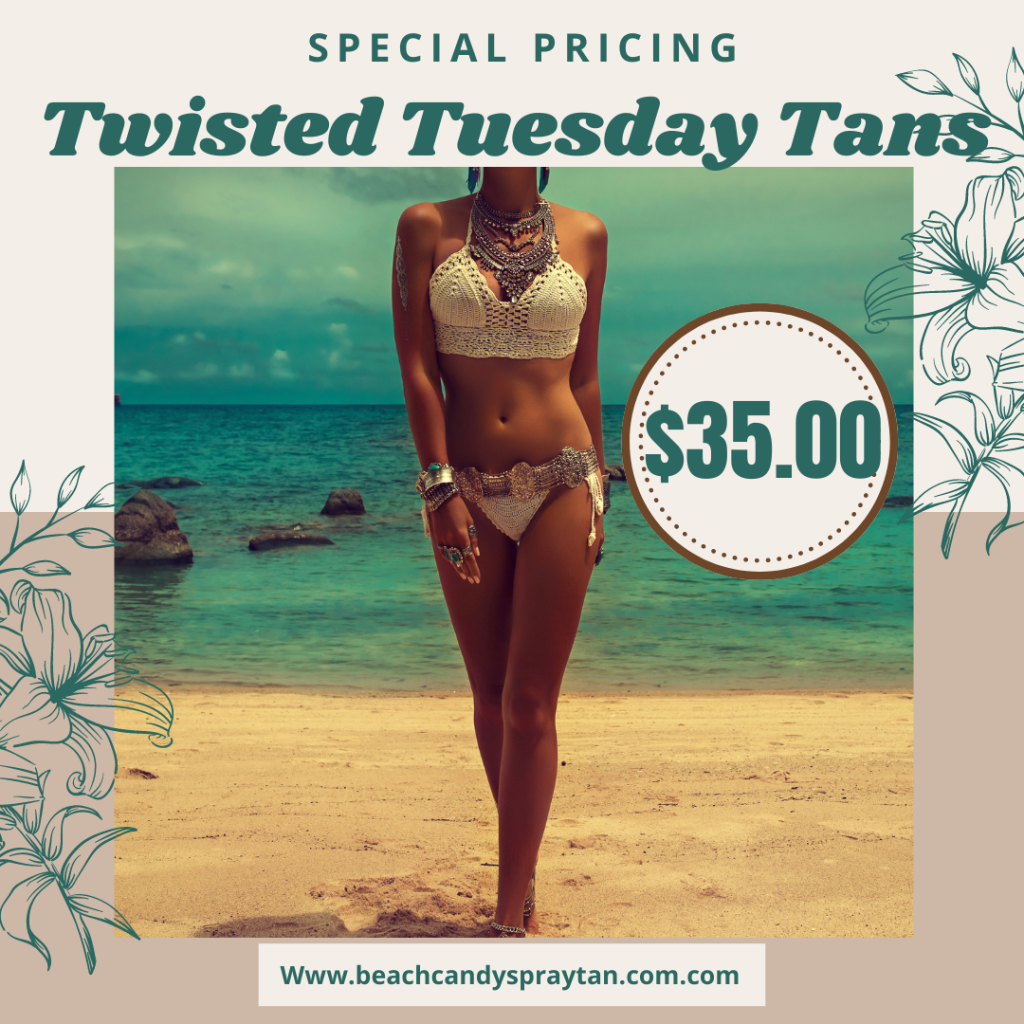 We create a custom blend for each one of our clients, because you are unique! Once we have the perfect blend created for you, we apply it in our 30-minute appointment.
Your tan needs to be perfect on your special day, and we can do that for you! We specialize in offering wedding tans, including your entire wedding party!
Want to have a fun evening with the girls?  Nothing is better than spray tans, wine and good company! Our spray tanning parties are perfect for a "girls night in" event!
Watch Our Spray Tan Process
Ready for your flawless spray tan?
We service both ladies and gents all sizes, thick or thin, and all skin tones.
Christine was absolutely amazing to work with! I'm so happy with my results & I highly recommend her!
Whitney Ramos
For an amazing, natural looking tan, Beach Candy Spray tan is the best! Love, love, love my tan!
Brittney Brigandi
This is hands down the best spray tan I've ever had! It has already been almost a week and it still looks as great as it was at its peak. The sprays that I've had back home definitely don't stay this long. I'm sadly back in the snow, but it looks like I've spent weeks in the sun. I wish I could request her mobile services across the country 😂. Thanks so much again, I cannot begin to thank you enough!
- Rylie
My first experience with spray tanning. Christine was great. She was prompt, explained everything well, and made me so comfortable. Would highly recommend, and I will definitely book another appointment. Just an awesome experience!!
- Anna
This is the best spray tan I have had. I have been using a service for years in Indiana and this tan blows my typical one away. Let me know if you ever think of moving your business north...LOL
- Jackie
I loveeeee my tan! Thanks again! I have a Vegas trip coming up, and got the spray tan done, and it looks amazing! I love how natural it looks and how easy the process was. I work a lot and don't have time to lay out or go to the tanning beds, so this is perfect! I recommend this to everyone!
- Magi
Value, Quality, Desirability, and Added Attractiveness